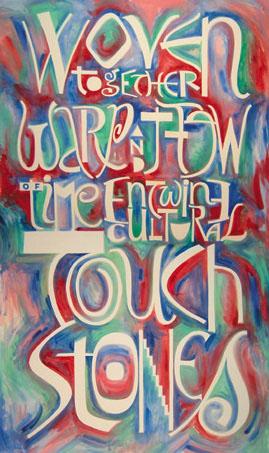 This haiku was commissioned by Rochdale Arts & Heritage Service from 'Just Poets' to mark a programme of exhibitions and events celebrating cultural diversity. The piece is 2.5m high and is painted in acrylic on paper.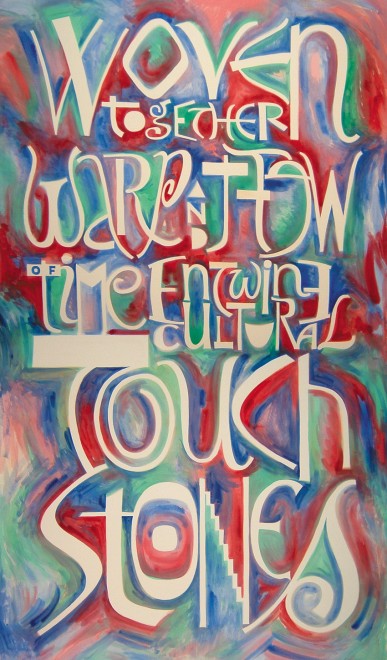 Woven together
warp and weft of time entwine
cultural touchstones.
From the Press Release:
As their poems revive old paintings in the exhibition, so lettering artist Stephen Raw has brought alive the Just Poets haiku. He was specially commissioned by Touchstones to design a prominent visual announcement of cultural diversity and his eight foot high interpretation of the haiku is displayed on the wall of the stairs leading to the Every Woman : Every Man exhibition.
"To see such a fantastic piece of Art based on our own words obviously makes us feel very proud," says Norman, "Stephen is an internationally respected artist and it is this Rochdale gallery that has proved to be our mutual touchstone."
Both Pam and Norman would argue, though, that the wonderful paintings in the exhibition, Stephen's artistic lettering and even their own poems do not really exist without an audience. Just Poets believe passionately that the Arts do indeed belong to Every Woman : Every Man and invite Rochdale people to both visit and participate in the exhibition.
"We have opened a comments book asking people to tell us which two paintings they would like to hear speaking to each other," says Pam, "and we will respond to requests by adding poems to the exhibition throughout its six months run. Also, we would love to work with any local community groups who would like to spend a couple of hours at the exhibition and create a poem of their own. Anybody interested could contact us or Touchstones."