1999
L: 110cms H: 130cms
Digital reproduction of original acrylic on paper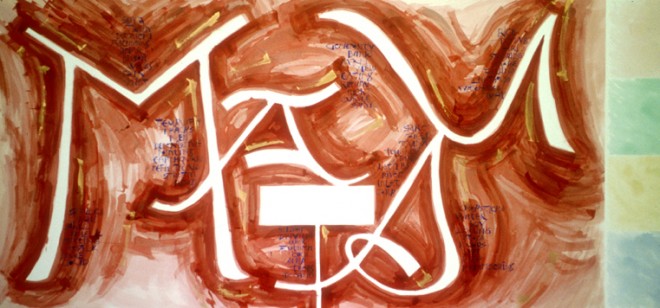 This piece was commissioned by Dr Kikawada of the Shokyu-kai Clinic Foundation for a new hospital in Iwate Province, Japan.
In 1998 I travelled to the opening of the hospital with my father. For me it was a return journey; for my father, aged 81, it was his first time in Japan. When I returned from an unusual week spent with him, having chatted about, among other things, his early years (with children of my own I am a better listener now) I thought that journeys— physical and mental—were appropriate for a work which was going to be seen by many older people in the hospital context.
The list of words I had kept in my sketch book were the ones I used. With the help of the large letters as a navigational aid, Japanese readers would be able to use the translation sheet to make free association between the lists to see if memories of their own life journeys could be recalled.