'Song of Songs' is a large silk-screen print using words from the King James Bible. It was printed by Kip Gresham in his Print Studio.
(2011 was the year of the 400th anniversary of the King James Bible – the reason this version was chosen.)
They are printed silk screen on 300gsm Somerset Velvet off-white, 520 x 710mm.
A number of these signed prints (of a limited to an edition of 80) are still available for sale at £300 including Royal Mail special delivery in the UK. (Overseas purchasers please email for postage rates). Email info

StephenRaw.com to order a print.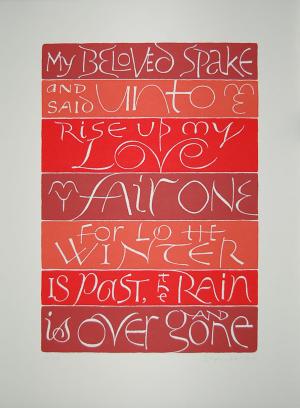 The Print Studio's website:
http://theprintstudio.tumblr.com/post/7651999947/we-have-just-completed-...