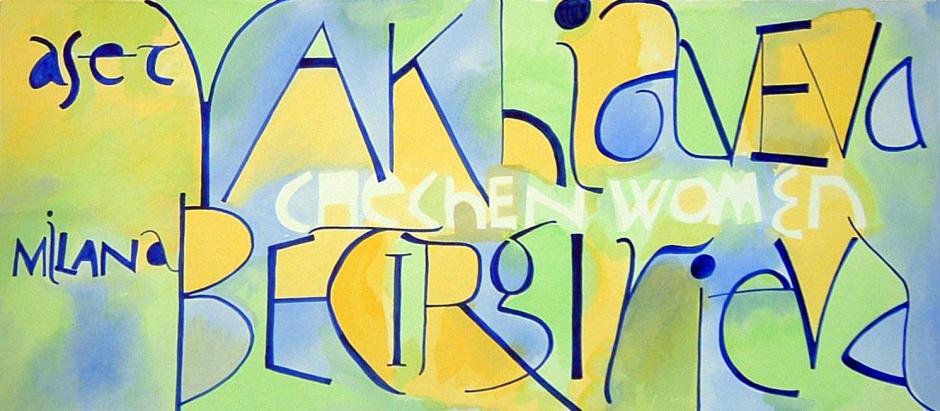 2003
Page dimensions– L: 84cms W: 36cms
Acrylic on paper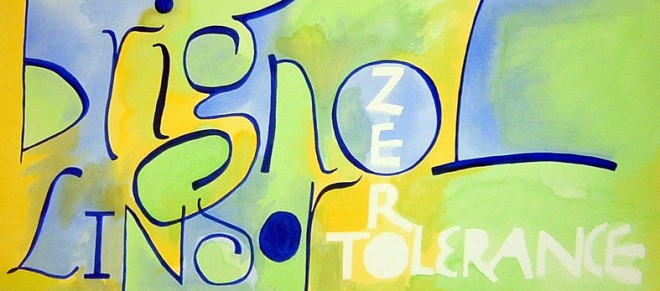 This book is a personal response to years of reading the harrowing stories of prisoners of conscience told as part of the ongoing Amnesty International letter writing campaigns. Some of the stories are about ordinary people who have been 'unlawfully killed' or murdered. Letters are written to try to see that justice is done and that these people are not forgotten just because various authorities have had them 'eliminated'.
Each page remembers a person or persons killed. I have not chosen sombre but rather bright colours, green, blue and yellow, to celebrate these lives, imagining that they would want to be remembered first and foremost for their living, not for the brutal way in which they were killed. They had committed no crime nor had they used violence. Their names are painted in blue while a salient word from their story is left white as an 'aide-memoire'. Usually a 'Book of Remembrance' records soldiers killed in action, trying to kill others. This 'Book of Remembrance' aims in a modest way to redress that imbalance.
The final page reads :
Also remember –
those who still grieve, still mourn loved ones taken from them
those whose humanity is diminished because they were the killers
those who cannot remain silent about these deaths and seek justice.